Pearson
Share
Regular price
Rs. 999.00
Sale price
Rs. 999.00
Unit price
per
Sale
Closed
_____________________
This Mental Health training is designed as per the Mental Health guidelines from CBSE and the World Health Organisation (WHO).
_____________________
*Please contact us at 91 9003106272 if you are facing any issue in payment or registration process. Please select the option enter UPI ID on CCAvenue payment gateway for easy payment process.
Use UPI Id "fundaspring@ybl" to pay if facing any issue in the payment gateway and share your details on the number given above.
_____________________
Details of the workshop:
Training Date: Jan 10th, 2024
Last Date To Register: 8th Jan 2024
Duration: 90 minutes
Time: 6:00 PM - 7:30 PM IST
Certificate by: Pearson
Mode: Online (Live)
Enroll now to secure your spot.
______________________________
Sample Certificate
Join Pearson in association with Bodhbridge - MCMF for a transformative training session on Psychological First Aid (PFA).
This exceptional course is designed to equip educators and school professionals with the tools and knowledge needed to support the mental well-being of students and colleagues effectively.
This training program is designed by Pearson as per the Mental Health guidelines from CBSE and the World Health Organisation (WHO).
This training focuses on Psychological First Aid (PFA) which is designed by Pearson's professional learning development team. The training outlines the World Health Organization (WHO) guidelines and covers the following topics from the CBSE Manual:
Importance of Mental Health and Well-Being

Mental Health - A holistic approach

Teachers as a facilitator and role of counselors
Psycho-social supports and risk factors
______________________________
Why Psychological First Aid?
Psychological First Aid is a compassionate and supportive response to individuals who are facing emotional distress.
Whether it's a student struggling with anxiety, a colleague facing burnout, or anyone in need of emotional support, PFA offers a structured approach to providing help.
Research, government agencies, and health organizations worldwide endorse the power of early, brief, and focused intervention in reducing emotional distress and establishing feelings of safety after traumatic events.
______________________________
Our Objectives:
General Mental Health and Well-being: Delve into the crucial role of mental health in educational settings and the well-being of all stakeholders.
Introduction to Psychological First Aid (PFA): Gain a deep understanding of PFA, including its concepts, strategies, and effective coping mechanisms.
Solution-Oriented Intervention Methods: Learn how to apply solution-focused techniques to support individuals facing mental health challenges.
______________________________
What's Inside the Session?
Recognizing Mental Health Issues: Understand the importance of recognizing mental health issues within school environments.

Identifying Signs and Symptoms: Learn to differentiate healthy and unhealthy behaviors, empowering you to make informed interventions.

Setting Boundaries: Define healthy boundaries to guide students toward effective coping strategies.

Assessment Mechanisms: Gain knowledge of specific assessment methods to better understand the mental health needs of those you support.

Intervention Strategies: Acquire practical skills through case-based discussions and activities to make a positive impact.
______________________________
Agenda:
Introduction to Mental Health Framework & Psycho-social Support: Lay the foundation for comprehensive mental health support.

Healthy Behavior Foundations: Explore the fundamentals of promoting well-being.

Psychological First Aid: Dive deep into PFA concepts, strategies, and tools.

Management & Tools: Discover effective tools and strategies for managing mental health challenges.
______________________________
Benefits:
Certification: Receive a certificate of completion to enhance your professional profile.

Empowerment: Gain insights into evolving trends and systems to effectively address mental health issues in educational settings.

Practical Strategies: Acquire tips and strategies to confidently handle student-related mental health challenges.

Expert Insights: Learn from experienced professionals and experts in the field, becoming better equipped to make a difference.
______________________________
Invest in your professional development and make a positive impact on the mental well-being of those in your educational community. Join us on this journey to become a more compassionate and effective educator or school professional.

View full details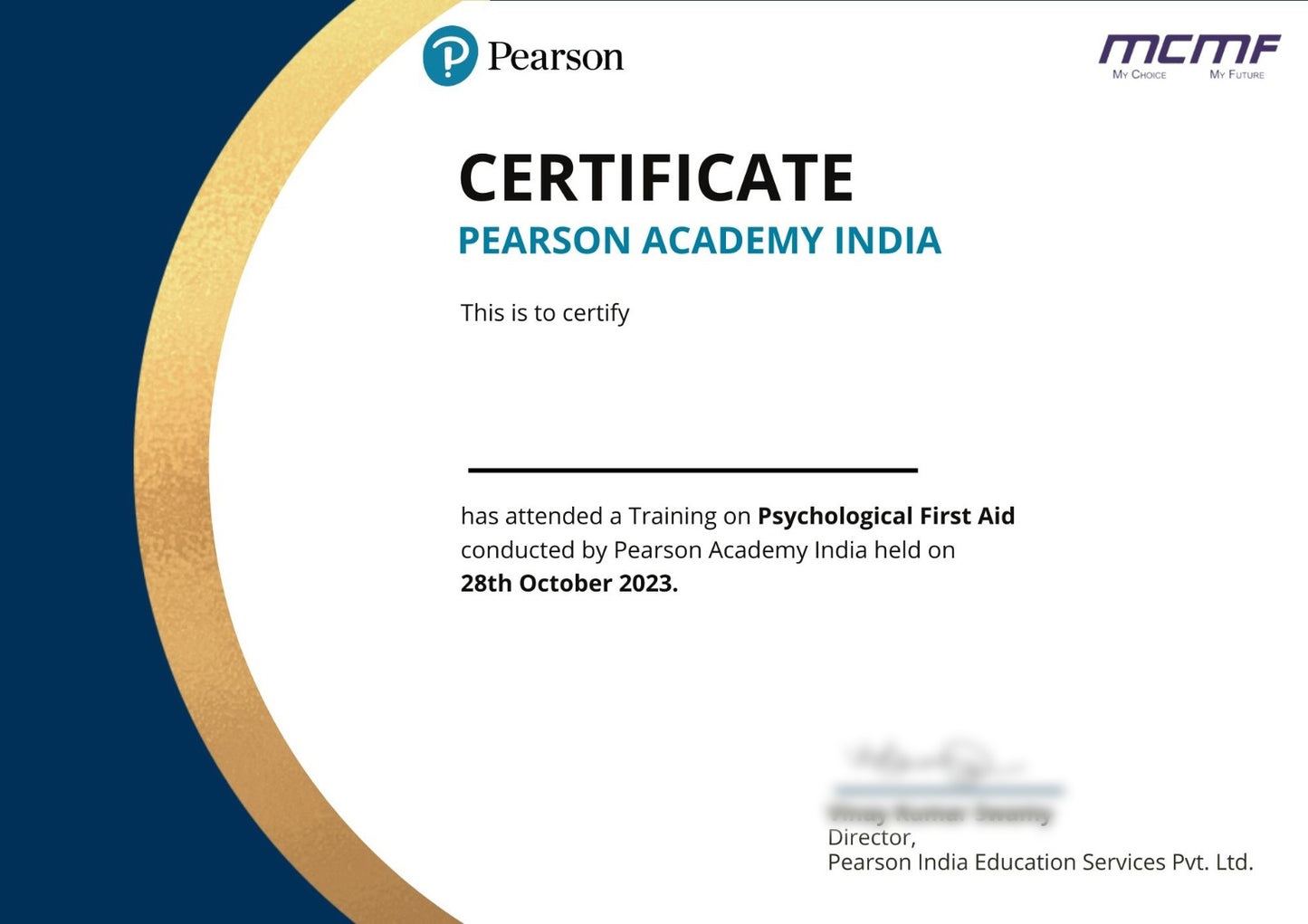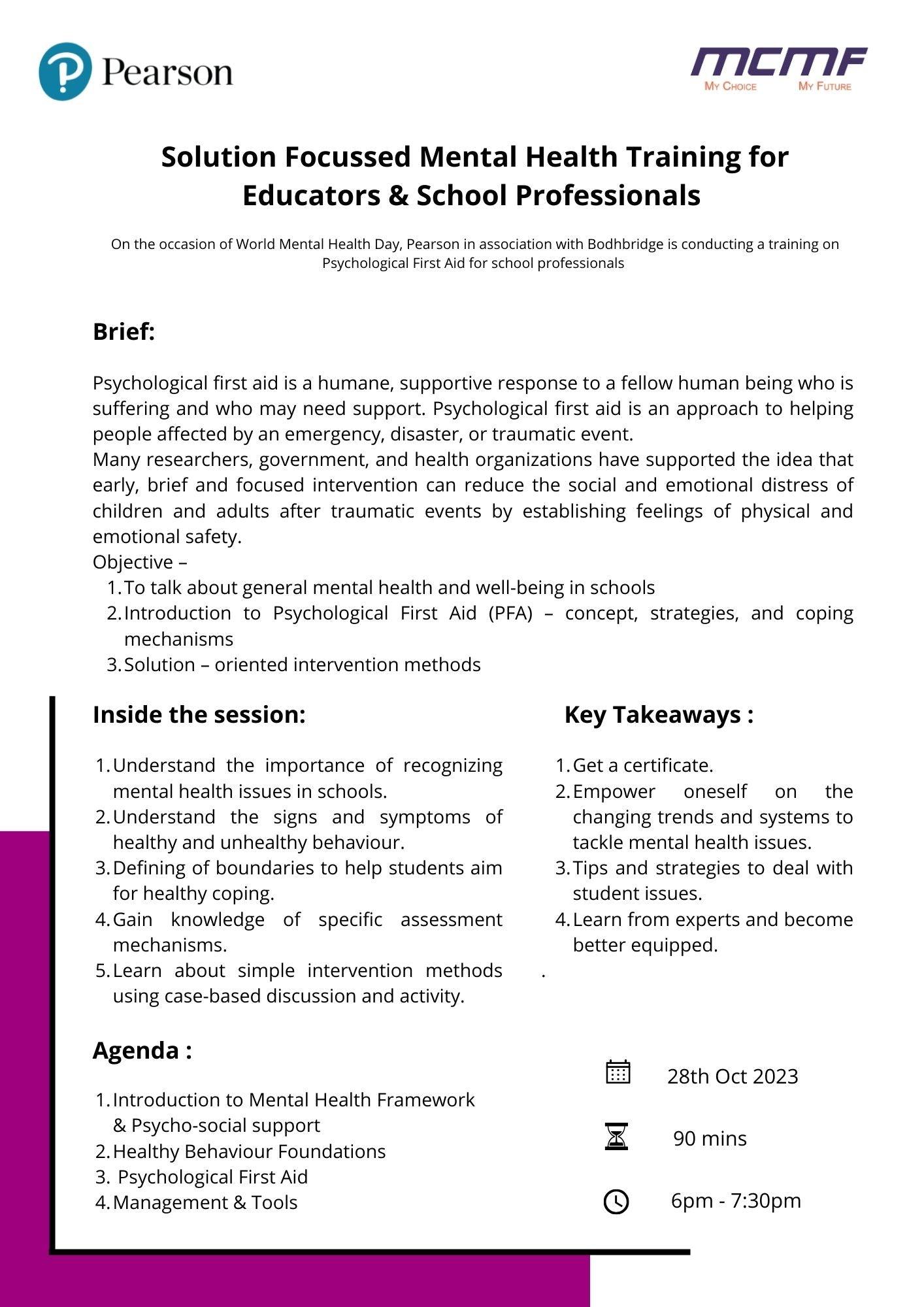 Nice Presentation of Mental Health
You cannot see a detailed webinar with so much in depth presentation of psychology as a first aid tool in education. The webinar was a nice demonstration of present problems and their solution.
review of workshop
The workshop was a deeply enriching and gave insightful experience. The program provided an invaluable understanding of the critical role of emotional support in crisis situations. With a well-structured curriculum, the workshop effectively outlined the fundamentals of responding to individuals facing emotional distress or trauma. The facilitator skilfully combined theoretical knowledge with practical scenarios, fostering a hands-on learning environment that encouraged active participation and problem-solving. Participants were equipped with essential techniques to offer immediate psychological support, promoting resilience and fostering a sense of safety and comfort. Overall, the Psychological First Aid workshop stands as a vital resource for anyone seeking to enhance their ability to provide compassionate care during challenging times.
Mental Health Certification Training for Teachers and Educators: Psychological First Aid- By Pearson
Found the title too lengthy.
The talk was fairly informative. I would have liked it if the transcripts of the session were given and also the certificate was promptly distributed.